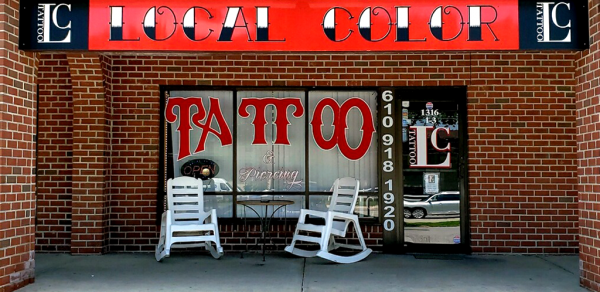 WELCOME TO LOCAL COLOR INK OF WEST CHESTER PENNSYLVANIA

We are a group of very talented and experienced (men and women) award winning custom tattoo artists and body piercers. We only offer the highest standards in quality products, for both tattoos and piercings, sterile procedures, and a comfortable atmosphere to make your experience as pleasant as possible. All artists are yearly certified by the American Red Cross in Bloodborne Pathogen Prevention and conduct each tattoo or body piercing with the highest standard of cleanliness.
We specialize in all things black and gray, full color, portraiture, realism, neo & traditional, lettering, cover-ups and new school. All tattoos and piercings are treated equally in importance…(it doesn't matter how big or small the idea is). Each artist at Local Color has their own specialties and likes, so, we urge you to go through each artists portfolio to guide you to the best artist to suit your needs.
Aftercare products are available for sale. We carry purified saline solution products for piercings ($10) and InkFixx ($5) a non petroleum based ointment for complete tattoo aftercare. You may also contact us at any time for recommendations for alternative aftercare products and procedures if you do not wish to purchase either of these products from us. WE CAN NOT GUARANTEE THE BEST HEALING IF YOU CHOOSE TO USE SOMETHING THAT IS NOT RECOMMENDED.
WE ARE OPEN 6 DAYS A WEEK/ MONDAY – SATURDAY FROM 12PM-8PM LOCATED IN ROSE HILL PLAZA IN FRONT OF ROSE HILL APARTMENTS. COME SEE US SOON FOR YOUR NEXT TATTOO OR PIERCING ADVENTURE, WE CAN'T WAIT TO MEET YOU AND WE'RE SURE TO HELP YOU MAKE IT A SUCCESSFUL ONE!!!
We are ranked in the Top 10 Best Tattoo and Piercing shops on the PHL17 Philly Hotlist! So come in! We will show you just how good we are!!!